Sam Hafertepe Jr. – 2016 ASCS National Champion!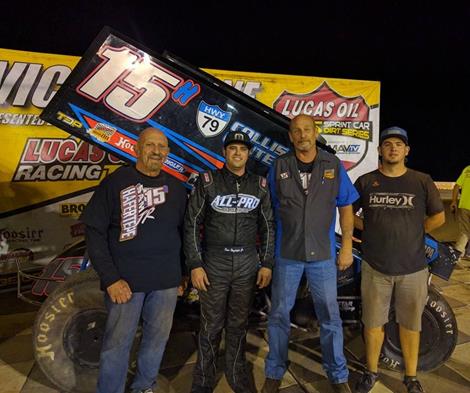 We would like to congratulate Sam on his 2016 run.    Same has stuck with Keizer wheels since his first run many years ago with the ASCS.   We would like to extend our sincere appreciation to Sam for taking us along the ride!!!
Sam Hafertepe Jr. – 2016 ASCS Champion!
(Bill W) November 14, 2016 – Sam Hafertepe Jr. and the Keith Dobbs #15H team wrapped up a championship season with the Lucas Oil ASCS National Series last weekend at Cocopah Speedway near Yuma, Arizona. The Sunnyvale, Texas driver finished fourth in the prelim and second in Saturday's finale to clinch his first title with the series.
In Friday's preliminary, Sam went from seventh to third in his heat, and sixth to third in his Qualifier to give him a starting spot outside row one for the feature. "The first night, we didn't get our car where it needed to be," he says. "I say that, but we still ran fourth. We just never had a dominating racecar. We were good in the heat and the Qualifier there, but we were kind of off. We were still good enough to finish fourth in the feature though."
One issue may have been the stagger. "We had a left rear bleeder go bad," says Sam. "That was our biggest issue, and that hurt us. The left rear went up to nine pounds in the feature. Even with that, we were able to almost get back to the lead at the midway point of the race. We still gave ourselves an opportunity to win. We just fell short."
Finishing fourth locked Sam into Saturday's finale. "I tried quite a few different things in the practice session on Saturday," he says. "I wanted to see how the car would respond. We got a pretty good handle on going in the right direction, but the lack of laps going into Saturday night hampered us a little bit. We've never been really good at Yuma, and this was the first time we've went there in which I felt we had an idea of where we needed to be."
This time, he would draw the pole for the finale, and he ran second to Aaron Reutzel at the checkers. "We were really close," says Sam. "If we had just one more time on the track Saturday, I think we could have nailed it. Between Reutzel and us, we were quite a ways out on everyone else. The third-place car was about six seconds behind us when we had a yellow with nine laps to go. He finished on top. We were just a little short."
Sam wanted to go out with a win. "I was a little dejected getting out of the car Saturday, just because I really wanted to go down there and win the final race of the year," he says. "I wasn't mad, I just set the goal of winning and we didn't do it. We made the win total this year that we were looking for at the beginning, but I was just hoping to go out with an exclamation point. We fell one spot short."
He feels confident moving forward, knowing that he has succeeded at many venues that he has struggled with in the past. That includes Yuma. "I feel good leaving Yuma, and a lot of the other tracks we ran at this year," says Sam. "That was one of the tracks that I haven't felt good at in the past, but going back, we have a handle on it. It's the same at a lot of others. We've learned so much about what the car needs, and I've been able to relay that from the driver's seat. Next year, I think we'll be even better in those places that we've had struggles."
Sam Online
Website: www.Sam15.com
Twitter: @SamHafertepeJr
Facebook: www.facebook.com/pages/Sam-Hafertepe-Jr-and-The-Plumbfast-Racing-Team/116304711773031?ref=br_tf
Sam's Weekly Releases
If you'd like to be added to Sam's e-mail list for weekly releases, e-mail sprntcar@hotmail.com with "Sam" in the Subject Line.
Sam would like to thank Highway 79 Collision Center, the Sparks Family, Kiebler & Sons Lawn and Landscaping, Keizer Aluminum Wheels, Champion Oil, NAPA Auto Parts of Franklin and Sherwin Williams.
Photo: The 2016 Lucas Oil ASCS National Series champs
Bill W Media